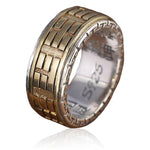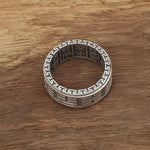 Please select an available variant

Trigrams are one of the great principles of traditional Feng Shui. They derive from Tao and mainly from Tai Ji still called Tai Qi. On this ring we can observe its same trigrams. Opt for this jewel to see these Trigrams more closely.

Features of this Bagua Ring :
Material

: 925 Sterling Silver
Rotatable ring
Jewel type : Yin Yang Ring

No discomfort on your skin
Careful details

Weight : 12gr
Ideal to offer a symbolic gift
Unisex (ring for men and women)
FREE SHIPPING

If this rotatable ring doesn't meet your expectations then take a look at this tao ring. However you can always visit our collection of yin yang rings to get a better view on all these rings. Complete your style with a necklace or earrings by visiting our yin yang jewelry collection.