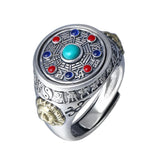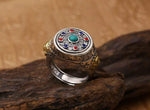 Please select an available variant
There are 5 copies remaining in inventory

Wear the Bagua symbol with the 8 elements with this yin yang jewel. This 8 Elements Ring made of solid silver will make you feel the Taoist spirituality of these elements.
Features of this Bagua Ring:
Material

: 925 Sterling Silver
Jewel type: Yin Yang Ring
Ideal to offer a symbolic gift
No discomfort on your skin
Careful details

Weight: 17,2gr
FREE SHIPPING
Carries the Taoism in on the fingertips thanks to this taoism ring. Discover today our range of yin yang rings respecting the principles of Taoism. Discover our yin yang jewels, they will be ideal to express your balanced spirit.