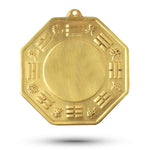 Please select an available variant

Every day we all suffer from energy attacks from which we must protect ourselves. And this yin yang jewel has precisely this capacity of protection against the negative waves. In addition to this power of reflection, this Bagua Mirror Necklace also knows how to attract and canalize the Qi.
Features of this Mirror Necklace:
Copper Pendant

Mirror Effect
Jewel type: Yin Yang Necklace
Pendant Size: 65 x 65mm | Weight: 13gr

Ideal to offer a symbolic gift

Unisex (necklace for men and women)
FREE SHIPPING
⚠️ WARNING ⚠️ This product can be used as a necklace BUT this is not the best way to use it. However, this is the only collection that allows us to offer you this unique product. If you would like more information on how to use it, please see our blog post dedicated to its use.
Show your femininity by wearing this pretty yin and yang choker necklace. Keep exploring our collection of yin yang necklaces and discover beautiful jewelry. But you can also visit this great collection of yin yang jewelry.

*This pendant is sold without chain.