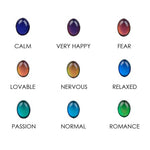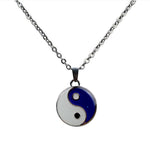 Please select an available variant

Psychologically interesting, this Yin Yang Mood Necklace will change color depending on your mood. Once around your neck, this spiritual jewel will be different according to your state of mind.
Features of this Mood Necklace:
Stainless Steel Pendant

Jewel type: Yin Yang Necklace
Resistant Necklace: Mesh structure and reinforced
Pendant Size: 21 x 24 mm | Chain Size: 55cm | Weight: 9gr

Ideal to offer a symbolic gift

Unisex (necklace for men and women)
FREE SHIPPING
Take advantage of the virtues of natural stones by wearing this handmade natural stone necklace. You will have a lot of choice in terms of natural stones. If you are not interested in this pendant, then visit our yin yang necklace collection. These yin yang jewels will have an impact on your well being.