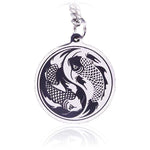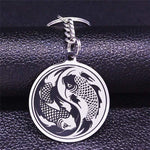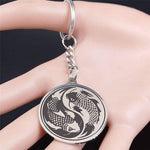 Yin Yang Koi Fish Keychain
Please select an available variant
Will be in inventory as of

If like the koi fish you are tenacious and courageous then this Koi Fish Keychain will be perfect for you. So you can mix duality and bravery thanks to the values of yin yang and those of the koi fish.

Features of this Koi Fish Keychain :
Material : Stainless Steel


Accessorie

type : Yin Yang Keychain
Ideal to offer a symbolic gift
Powerful philosophical values
Diameter :

3,5

cm
FREE SHIPPING
Bring out your feline side by wearing this cat yin yang keychain which will perfectly bring out your personality, getting closer to the cat, a very sacred animal in China. Here is a wide range of yin yang keychains, visit this collection and find your choice among all our Accessories. You can also visit all our yin yang Accessories for a better overview!