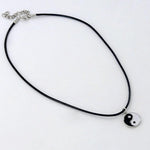 Please select an available variant

This Serenity Necklace will prove that you are someone who possesses great serenity. Wear this jewel around your neck to find the perfect balance.

Features of this Serenity Necklace:
Stainless Steel Pendant

Jewel type: Yin Yang Necklace
Resistant Necklace: Mesh structure and reinforced
Pendant Size: 17 x 23 mm | Chain Size : 60cm | Weight : 5gr

Ideal to offer a symbolic gift

Unisex (necklace for men and women)
FREE SHIPPING
If you are looking for the perfect necklace, this yin and yang necklace 2 pieces should fit you perfectly to complete your harmonious style. Otherwise, you can go to the Yin Yang Necklace collection to discover all our models. To complete your style, we can propose you other Yin Yang jewels.