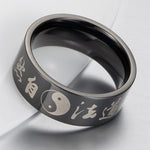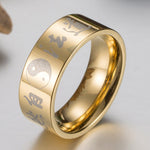 Please select an available variant

The Chinese inscriptions on the ring speak about the law of nature, the 'Tao'. Tao is the 'order principle' of all nature, but also of all natural elements, including humans, which is a mixture of earthly and celestial influences, of Yin and Yang. Adopt this Tao Ring to defend the interests of natural law.

Features of this Tao Ring :
316L Stainless Steel: does not blacken, resistant to chlorine
Jewel type : Yin Yang Ring
No discomfort on your skin
Careful details

Weight : 11gr
Ideal to offer a symbolic gift
Unisex (ring for men and women)
FREE SHIPPING
Would you prefer to opt for a silver ring? Then we have what you need. This silver yin yang ring will surprise you with its harmonious finish. Our collection of yin yang rings will give you a wider view of all our rings. Make your choice among all our yin yang jewelry, in stainless steel or silver, they are all carefully chosen to be part of our collections.