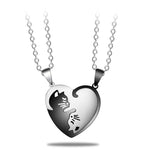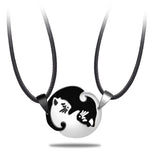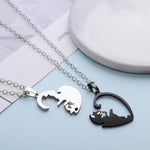 Please select an available variant

Choose this Yin Yang Cat Necklace that will be perfect to offer to your girlfriend. Thus, it will represent your perfect symbiosis and your inner peace.

Features of this Yin Yang Cat Necklace :
Zinc Alloy Pendant

Jewel type : Yin Yang Necklace
Resistant Necklace : Mesh structure and reinforced
Pendant Size : 25 x 25 mm | Chain Size : 49cm | Weight : 10gr

Ideal to offer a symbolic gift
Unisex (necklace for men and women)
FREE SHIPPING
Discover this yin yang sun and moon necklace that will offer you powerful alchemical values thanks to the energy of the sun and the moon. If you like our yin yang necklaces then visit our dedicated collection. Discover our whole range of yin yang jewels for a complete overview!

*This item is divided into 2 pieces