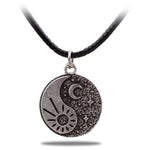 Yin Yang Sun and Moon Necklace
Please select an available variant

In alchemy, the Sun and the Moon are the two fundamental energies that make up the Unitary Whole. This is the fundamental hermetic duality. Surround yourself with this powerful alchemy by wearing this Yin Yang Sun and Moon Necklace.

Features of this Sun and Moon Necklace :
Zinc Alloy Pendant

Jewel type : Yin Yang Necklace
Genuine Leather Pendant: braided and reinforced structure
Pendant Size : 25 x 25 mm | Chain Size : 50cm | Weight : 9gr

Ideal to offer a symbolic gift
Unisex (necklace for men and women)
FREE SHIPPING

If you like the charm necklace then discover this yin yang charms necklace which will be ideal to symbolically represent Taoism. With our yin yang pendants, you will be able to have a very harmonious style. Discover our yin yang jewelry now!