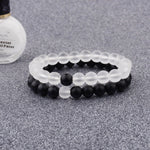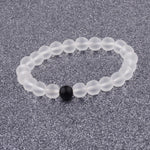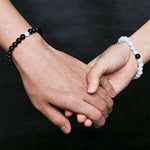 Yin and Yang Friendship Bracelet
Please select an available variant

Incredible. This beautifully beaded bracelet will have a very positive effect on you. Find your way to the sight of inner peace by wearing this handcrafted Yin And Yang Friendship Bracelet. Offer this magnificent jewel to your friend to prove to him that your friendship cannot be broken.

Features of this Yin Yang Friendship Bracelet :
Natural Stones

: Healing Properties

Jewel type : Yin Yang Bracelet
Powerful Spiritual Symbol

Material : stainless steel, copper alloy
Pearls Diameter : 8mm (25 pearls)
X2 Bracelets included
Length : 18cm
100% handcrafted manufacturing
Ideal to offer a symbolic gift
Unisex (bracelet for men and women)
FREE SHIPPING
If you are looking for a jewel that you could wear with your partner then this yin yang bracelet for couples will be great to carry Taoism in your heart. With our yin yang bracelet you can have a very harmonious style. Discover our yin yang jewelry now!