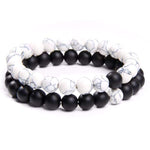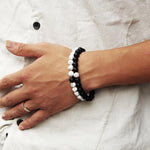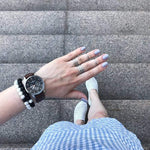 Yin Yang Bracelet for Couples
Please select an available variant
Will be in inventory as of

Share your vision of Taoism by wearing this Yin Yang Bracelet for Couples with your partner. What could be more intense than sharing the same philosophical values with your soul mate?

Features of this Couple Bracelet :
Natural Stones

: Healing Properties

Jewel type : Yin Yang Bracelet
Powerful Spiritual Symbol

Ideal to offer a symbolic gift
Material : elastic, zinc alloy
Pearls Diameter : 8 mm (24 pearls)
100% handcrafted manufacturing
Unisex (bracelet for men and women)
FREE SHIPPING
Immerse yourself in Taoism with this couples black and white bracelet that will reveal your level of inner peace. Beautify your harmonious jewelry box, go to the dedicated collection. For all the other jewels with the effigy of an ancient Chinese symbol, we have a yin yang jewelry collection.