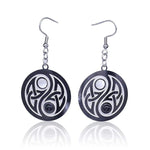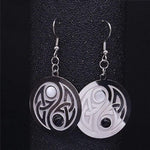 Yin Yang Irish Knot Earrings
Please select an available variant

Mixes the concept of duality with the knot of the Trinity. These two symbols represented on these Irish Knot Earrings form a beautiful synergy. The Irish knot also called the Triquetra is a very popular symbol in the Celtic culture. The yin yang is a very well known symbol in the Chinese culture. These two symbols represent something pure and ancient.

Features of this Irish Earrings:
Material: Premium Stainless Steel
High phylosophical values
Jewel type : Yin Yang Earrings
1 X Earrings pair
Diameter : 30mm
Careful details
FREE SHIPPING
Discover these sun and moon dangle earrings that will offer you powerful alchemical values thanks to the energy of the sun and the moon. If you like our yin yang earrings then visit our dedicated collection. Discover our whole range of yin yang jewels for a complete overview!