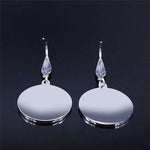 Yin Yang Sun and Moon Dangle Earrings
Please select an available variant
Will be in inventory as of

Carry the moon and the sun with you everywhere with these Sun and Moon Dangle Earrings. You will be able to feel the deep values of Taoism by wearing the symbol of Yin and Yang.

Features of this Sun and Moon Earrings:
Material: Premium Stainless Steel
High phylosophical values
Jewel type : Yin Yang Earrings
1 X Earrings pair
Diameter : 20mm
Careful details
FREE SHIPPING
Be at peace with your mind by opting for these yin yang earrings spiritual. Keep exploring our collection of yin yang earrings and discover beautiful jewelry. But you can also visit this great collection of yin yang jewelry.