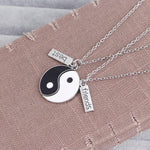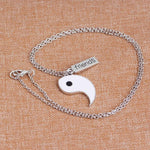 Please select an available variant

Offer this nice gift to your bestie. This Bestie Necklaces For 2 will represent both your very long friendship and your love for the Yin Yang symbol. Very popular for these intense spiritual values.

Features of this Bestie Necklaces For 2 :
Zinc Alloy Pendant

Jewel type : Yin Yang Necklace
Resistant Necklace : Mesh structure and reinforced
Pendant Size : 28 x 31 mm | Chain Size : 50cm | Weight : 19,8gr

Ideal to offer a symbolic gift
Unisex (necklace for men and women)
FREE SHIPPING
Recover your health thanks to this wellness necklace that will help you soothe your chakras. You can also check the collection of yin yang necklaces, you will surely find what you're looking for. Our wide range of yin yang jewelry is waiting for you!

*This item is divided into 2 pieces