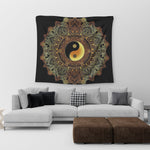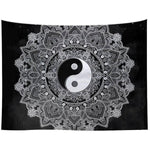 Black and White Mandala Tapestry
Please select an available variant

When we speak of Yin Yang we think of the duality found in the universe. Therefore, when we observe a mandala with Yin Yang, we are referring to the same thing, a way of balancing the chakras when observing a Yin Yang mandala. Decorate your home in the most beautiful way with this Black and White Mandala Tapestry.

Features of this Black and White Mandala Tapestry:
Material: Polyester

Decor type: Yin Yang Tapestry
Printing: High quality and color accuracy

Machine washable
Give a unique style to your home
FREE SHIPPING

In a more exotic style, this exotic tapestry will make you discover a new aspect of Taoism. If you are not interested in this tapestry, then visit our yin yang tapestry collection. These yin yang decorations will have an impact on your well being.