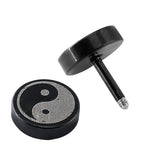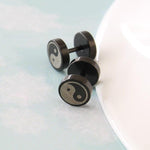 Black Stud Men's Yin Yang Earrings
Please select an available variant

Wear the Yin Yang symbol on your ears every day with these Black Stud Men's Earrings. Open your mind and release the negative waves by adopting this Taoist jewel with great spiritual values.

Features of this Black Stud Earrings:
Material: Premium Stainless Steel
High phylosophical values
Jewel type : Yin Yang Earrings
1 X Earrings pair
Diameter : 8mm
Careful details
FREE SHIPPING
Find inner peace by wearing these spiritual earrings that will help you to find your way. You can also check the collection of yin yang earrings, you will surely find what you're looking for. Our wide range of yin yang jewelry is waiting for you!