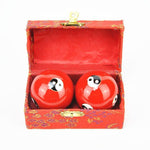 Please select an available variant

Enter in perfect harmony while meditating and relaxing with the help of these
Chinese Baoding Balls

with surprising qualities!

Chinese Baoding Balls

These Chinese reflexology balls with Yin-Yang pattern will gently accompany you in your self-massage sessions at home or at the office.

Equipped inside a small chime, the handling of the Chinese balls generates a harmonious sound, helping to relax and unwind. These Qigong balls can therefore also be used in a relaxation session or in certain meditative practices.
The Qigong balls in cloisonné enamel has a beautiful Yin-Yang pattern recalling the duality present in each being and each phenomenon of nature.

The benefits of health balls:

When practiced regularly, this exercise has a positive effect on the nervous system, helping to improve memory and prevent certain diseases such as arthritis and high blood pressure.

Moreover, regular use of these balls helps reduce stress and improve the body's self-healing capacities for many chronic diseases.

Features of this Yin Yang Balls:
Chinese Baoding Balls

:

Relaxation balls



2 X Baoding ball

1 X gift box (the color of the box is random)

Material : iron, resin, copper

Diameter : 4.7cm

FREE SHIPPING