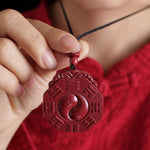 Chinese Cinnabar Necklace
Please select an available variant

Made of natural materials, this Chinese Cinnabar Necklace
 

will be perfect to carry the Bagua symbol with you everyday. The meaning of this symbol is very spiritual. In fact, this bagua also called 'Pa kua' represents the 8 elements.

Features of this Cinnabar Necklace:
Natural Cinnabar Pendant

Jewel type: Yin Yang Necklace
Resistant Necklace: Reinforced Cord
Pendant Size: 44 x 42 x 9 mm | Chain Size: 65cm | Weight: 29gr

Ideal to offer a symbolic gift

Unisex (necklace for men and women)
FREE SHIPPING
Wear the colors of the rainbow with a taoist jewel such as this stainless steel rainbow yin yang necklace. Visit our collection of yin yang necklaces to discover harmonious jewels. Discover our yin yang jewelry to amplify your spirituality through a taoist object.