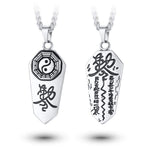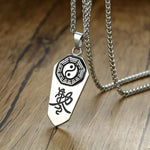 Please select an available variant
Will be in inventory as of

Protect yourself from negative waves and demons with this protector Chinese Necklace For Men. Its Chinese runes will protect you from hostile forces while giving you a great spiritual look.

Features of this Men's Necklace:
Stainless Steel Pendant

Jewel type: Yin Yang Necklace
Resistant Necklace: Mesh structure and reinforced
Pendant Size: 23 x 49 mm | Chain Size: 60cm | Weight: 16gr

Ideal to offer a symbolic gift
FREE SHIPPING
Open yourself to the trigrams of the bagua symbol representing the 8 elements with this eight trigrams necklace. Travel to China with our yin yang necklaces to find the perfect harmony. Discover all our yin yang jewels and relax while exploring this great collection.