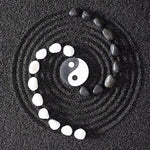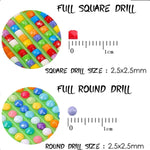 Diamond Painting Yin Yang Stones
Please select an available variant
Will be in inventory as of

Take a well-deserved break after your hard day's work by making your own Stones Diamond Painting. This activity will help you relax and feel better.
Features of this Stones Diamond Painting :
Material : Resin

Decor type : Yin Yang Diamond Painting
1X self-adhesive canvas with the pattern to be covered with diamonds

1X plate of glue to be used to grip the diamond with the stylus
1X green container that allows you to receive and sort/return the diamonds in the right direction by shaking it lightly
1X pair of pliers (to be used to apply the diamonds)
Small numbered diamond sachets
Art-Therapy : Increases the ability to concentrate, helps to calm the most active, relieves stress and helps to relax.
Original Gift Idea : For a birthday, Christmas, Mother's Day and many other occasions.
Give a unique style to your home
FREE SHIPPING
*The photo of the diamond painting is not totally similar to the finished product in very minor details. It is shown here in 45X45cm in square diamonds.

If you don't know how to make your Diamond Painting consult our tutorial How to do Diamond Painting.