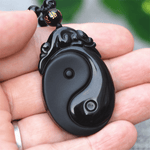 Obsidian Necklace Yin Yang
Please select an available variant
Will be in inventory as of

Carry the Taoism with you in your daily life thanks to this Obsidian Necklace Yin Yang made with obsidian stones. Its remarkable finish gives a wonderful harmonious aspect.
Features of this Taoist Necklace:
Obsidian Pendant

Jewel type: Yin Yang Necklace

Resistant Necklace : 

R

einforced 

b

eaded cord

Pendant Size: 49 x 32 mm | Chain Size: 50cm | Weight: 75gr

Ideal to offer a symbolic gift

Unisex (necklace for men and women)
FREE SHIPPING
If you too have a strong mentality like a koi fish then this koi fish yin yang necklace will be ideal for you! Don't hesitate to visit our necklace collection to discover even more models. Our collection of yin yang jewels will bring you only positive waves.