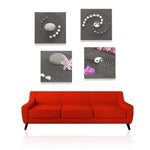 Spiritual Canvas Paintings
Please select an available variant

Open your eyes and make room for the spirituality of this Spiritual Canvas Paintings that will give your home a touch of yin yang with a hint of Taoism. This art piece is separated in 4 distinct parts, so you can place them in different strategic places of your home or place them together for a more artistic look.
Features of this Rocks Painting:
Canvas printing: World reference quality in terms of printing and giving a "painting canvas" aspect.
Decor Type: Yin Yang Painting
Ultra Light: One nail is enough to hang it on the wall
Material: Cotton canvas
Extremely accurate color rendering
FREE SHIPPING
If you prefer a more 'classic' but classy canvas, you can opt for this yin yang wolves 5 pieces canvas. It will show the importance you show to the wolves and the values of taoism. Here is a wide range of yin yang canvas, visit this collection and find your choice among all our paintings. You can also visit all our yin yang decor for a better overview!