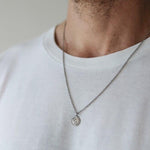 Stainless Steel Yin Yang Necklace
Please select an available variant

Offer this Stainless Steel Yin Yang Necklace with powerful values. It will be perfect for a person who wishes to find inner peace. Its very minimalist design makes it both simple and attractive.

Features of this Precious Link Necklace :
Stainless Steel Pendant

Jewel type : Yin Yang Necklace

Resistant Necklace : Mesh structure and reinforced

Pendant Size : 16 x 16 mm | Chain Size : 60cm | Weight : 10gr

Ideal to offer a symbolic gift

Unisex (necklace for men and women)

FREE SHIPPING
Discover this yin yang necklace sterling silver today. It will reflect your personality. Otherwise, you can also visit our yin yang necklaces with this collection. The yin yang jewels are also there to show that Taoism has no more secrets for you!