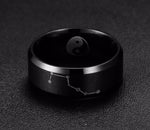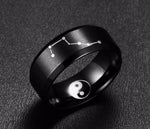 Tai Chi Yin Yang Men's Ring
Please select an available variant

Reinforce your Taoist values by wearing this Tai Chi Yin Yang Men's Ring. The star represented on the ring is one of the earliest known representations of stars in ancient Chinese astronomy. We can observe this same representation on the Dunhuang map.

Features of this Men's Ring :
316L Stainless Steel: does not blacken, resistant to chlorine
Jewel type : Yin Yang Ring
No discomfort on your skin

Matte Finished
Careful details

Weight : 7gr
Ideal to offer a symbolic gift
FREE SHIPPING

If you appreciate the concept of duality represented by the symbol of Yin and Yang then this small gold heart ring will be ideal for you. You can also adopt one of our yin yang rings. Surprisingly beautiful, they will surprise you with their powerful values. Discover our yin yang jewels, you will have a very varied choice between all our quality items.