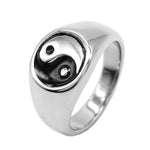 Please select an available variant

At the level of the Universe, therefore from a macroscopic point of view, yang corresponds to Energy, to Heaven, while yin corresponds to Matter, to Earth. According to the principles of Taoism, it is the encounter between Heaven and Earth that created the Universe. Adopt this Universe Ring which contains a powerful energy.

Features of this Universe Ring :
316L Stainless Steel: does not blacken, resistant to chlorine
Jewel type : Yin Yang Ring
No discomfort on your skin

High Polished Finished
Careful details
Weight : 8gr
Ideal to offer a symbolic gift
Unisex (ring for men and women)

FREE SHIPPING
Feel the divination sleeping in you while wearing this dual yin yang ring. It will give you self-confidence and proudly wear the Bagua Map on your finger. You can also discover all our yin yang rings so you will have a more concrete idea on the choice of your jewelry with the perfect balance. Discover also our yin yang jewels with surprising spiritual qualities.