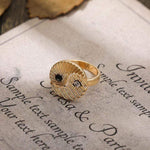 Please select an available variant
Will be in inventory as of

Bring out all your femininity and your balanced spirit by wearing this pretty Women's Yin Yang Ring. Sparkling, this taoist jewel will have a very positive impact on your well being.
Features of this Women's Ring:
316L Stainless Steel:

 

does not blacken, resistant to chlorine
Jewel type: Yin Yang Ring
Ideal to offer a symbolic gift
No discomfort on your skin
Careful details

Weight: 14gr
FREE SHIPPING
Give a touch of Taoism by wearing this yin yang minimalist ring with a very elegant style. Discover all our collection of yin yang rings with our dedicated collection. All our yin yang jewels have been chosen to offer to satisfy the most precise expectations according to your desires.