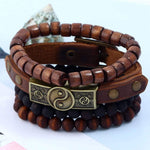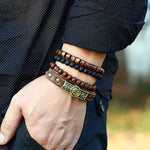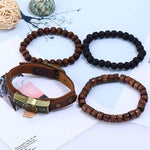 Yin and Yang Bracelet Set
Please select an available variant

This nice Chinese Yin and Yang Bracelet Set is composed of a set of bracelet, and a face finely decorated by the yin yang symbol in the center of the trigrams. It will push back all the harmful energies to the good functioning of your body and your spirit.
Features of this Bagua Set Bracelet :
Wooden Beads / Genuine cowhide leather

Jewel type : Yin Yang Bracelet
Powerful Spiritual Symbol

Ideal to offer a symbolic gift
Length: 24cm

100% handcrafted manufacturing
Unisex (bracelet for men and women)
FREE SHIPPING
If you have the soul of a traveler then this leather bracelet set should be great for you. It will reflect your personality. Otherwise, you can also visit our yin yang bracelets with this collection. The yin yang jewels are also there to show that Taoism has no more secrets for you!