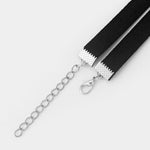 Yin and Yang Choker Necklace
Please select an available variant

Be in peace with yourself by having this Yin and Yang Choker Necklace around your neck. The secret of inner peace is not only in this Pendant. It is also your duty to discover its secrets by yourself, starting by equipping yourself with this sumptuous Yin Yang Choker.

Features of this Yin and Yang Choker Necklace :
Zinc Alloy Pendant

Jewel type : Yin Yang Necklace
Resistant Necklace : Reinforced suede cord
Pendant Size : 20 x 20 mm | Chain Size : 40cm | Weight : 5gr

Ideal to offer a symbolic gift
Unisex (necklace for men and women)
FREE SHIPPING

Keep the symbol of Yin Yang in your heart with this forever in my heart pendant necklace. If you are interested in yin yang necklaces then discover this dedicated collection. Adopt a very harmonious style by wearing one of our yin yang jewelry with unexpected qualities.