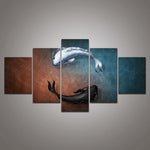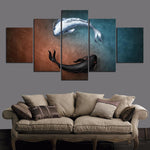 Yin and Yang Koi Fish Painting
Please select an available variant
Will be in inventory as of

Koi carp in the colors of Yin and Yang. This is a beautiful Yin and Yang Koi Fish Painting for a beautiful person. One can feel the voice of inner peace through this art.
Features of this Koi Fish Painting:
Canvas printing: World reference quality in terms of printing and giving a "painting canvas" aspect.
Decor Type: Yin Yang Painting
Ultra Light: One nail is enough to hang it on the wall
Material: Cotton canvas
Extremely accurate color rendering
FREE SHIPPING
Be strong like a koi fish, adopt this very colorful yin yang fish painting. For a better view of our paintings, discover these spiritual canvas. Discover our beautiful yin yang decor by wearing our dedicated collection.