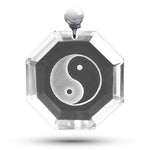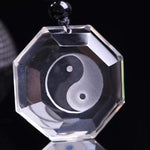 Yin Yang Crystal Necklace
Please select an available variant
There is still a stock review

Feel all the virtues of the natural Crystal by wearing this Yin Yang Crystal Necklace with sublime transparency. You can see the Taoist symbol through the pendant.
Features of this Crystal Necklace:
Natural Crystal Pendant

Jewel type: Yin Yang Necklace
Resistant Necklace: Reinforced Cord
Pendant Size: 30 x 11 mm | Chain Size: 50cm | Weight: 20gr

Ideal to offer a symbolic gift

Unisex (necklace for men and women)
FREE SHIPPING
Feel the power of two mythical beings with this sterling silver tiger and dragon necklace. Visit the collection of our yin yang necklaces if you wish to find inner peace. Discover our yin yang jewelry, you will find a great number of Buddhist jewels!