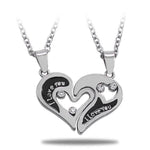 Please select an available variant

Your partner will love this beautiful Yin Yang Heart Necklace handmade by passionate people for passionate people. Feel by this jewel a deep love for the philosophical values of Yin Yang.

Features of this Yin Yang Heart Necklace :
Zinc Alloy Pendant

Jewel type : Yin Yang Necklace

Genuine Leather

 

Pendant: braided and reinforced structure
Pendant Size : 28 x 20 mm | Chain Size : 50cm | Weight : 10gr

Ideal to offer a symbolic gift

Unisex (necklace for men and women)
FREE SHIPPING
Elevate your relationship to a high level of serenity with this yin yang couple necklace made especially for couples. If this necklace does not tempt you, you can also discover our yin yang pendants by visiting our dedicated collection. Discover Taoism in another form thanks to our yin yang jewels that will remind you of the values of this Chinese symbol!

*This item is divided into 2 pieces