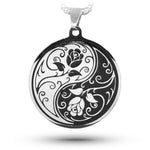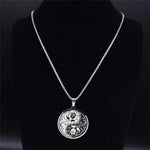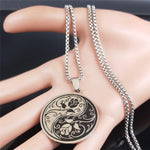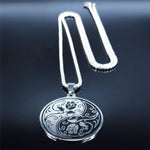 Black and White Flower Necklace
Please select an available variant

Bring life to your routine by wearing this Black and White Flower Necklace. The taoist aspect of this yin yang jewel makes the flowers of the necklace very harmonious.
Features of this Flowers Necklace:
Stainless Steel Pendant

Jewel type: Yin Yang Necklace
Resistant Necklace: Mesh structure and reinforced
Pendant Size: 35 x 35 mm | Chain Size: 50cm | Weight: 13,5gr

Ideal to offer a symbolic gift

Unisex (necklace for men and women)
FREE SHIPPING
Perfect for guiding you to inner peace, the feathers of this black and white feather necklace will help you in your quest for perfect balance. Here is a wide range of yin yang necklaces, visit this collection and find your choice among all our pendants. You can also visit all our yin yang jewelry for a better overview!