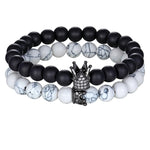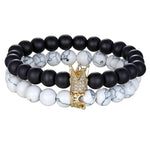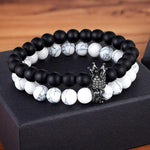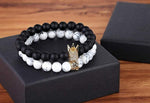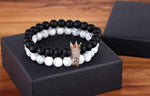 Bracelet Couple King Queen
Please select an available variant
Will be in inventory as of

Feel the royal taoism through this Bracelet Couple King Queen. Wear it with your partner and bring a touch of royalty to your healthy relationship. Show your authority with this Yin Yang Jewel.

Features of this King Queen Bracelet:
Natural Stones

: Healing Properties

Jewel type: Yin Yang Bracelet
Powerful Spiritual Symbol

Ideal to offer a symbolic gift
Material: elastic, zinc alloy
Pearls Diameter: 8 mm (24 pearls)
100% handcrafted manufacturing
Unisex (bracelet for men and women)
FREE SHIPPING
Be at peace with your mind by opting for this yin yang wristband. Keep exploring our collection of yin yang bracelets and discover beautiful jewelry. But you can also visit this great collection of yin yang jewelry.