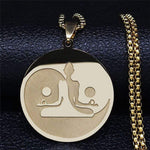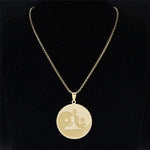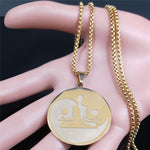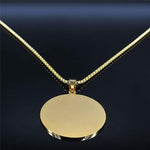 Buddhist Meditation Necklace
Please select an available variant

Enter in symbiosis with your Buddhist Meditation Necklace which will be indispensable to you to carry out sessions in perfect harmony with your body and your spirit.
Features of this Meditation Necklace:
Stainless Steel Pendant

Jewel type: Yin Yang Necklace
Resistant Necklace: Mesh structure and reinforced
Pendant Size: 35 x 35 mm | Chain Size: 60cm | Weight: 20gr

Ideal to offer a symbolic gift

Unisex (necklace for men and women)
FREE SHIPPING
If you want a yin yang jewel made of natural crystal then this sublime XX is made for you yin yang crystal necklace. This is not your style of necklace? That's okay, keep visiting our yin yang necklace collection. And if you are not particularly interested in our necklaces, you can also choose one of our yin yang jewelry.