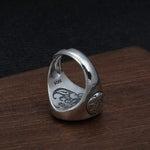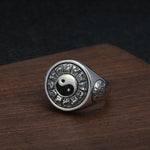 Please select an available variant

Surround yourself with the Chinese astrological signs by wearing this Chinese Zodiac Ring in sterling silver. Very representative of the Asian culture, this yin yang jewel will give you a harmonious look.
Features of this Zodiac Ring :
Material

: 925 Sterling Silver
Jewel type: Yin Yang Ring
Ideal to offer a symbolic gift
No discomfort on your skin
Careful details

Weight: 15,2gr
Unisex (ring for men and women)
FREE SHIPPING
You can also bring a little femininity by wearing this women's yin yang ring. Combine harmony and perfect balance with this jewel. Otherwise, you can discover our whole collection of yin yang rings. These yin yang jewels have been chosen to offer the best quality, both in terms of values and finishes.