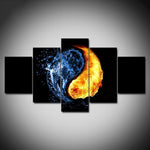 Please select an available variant
Will be in inventory as of

Fire and water are two elements that attract each other as much as they do not resemble each other. Two opposites that are attracted to each other represent Yin Yang marvelously well. Opt for this impressive Fire and Water Painting!
Features of this Fire and Water Painting:
Canvas printing: World reference quality in terms of printing and giving a "painting canvas" aspect.
Decor Type: Yin Yang Painting
Ultra Light: One nail is enough to hang it on the wall
Material: Cotton canvas
Extremely accurate color rendering
FREE SHIPPING
You can also decorate your house with an aquatic animal with a great reputation in China using this yin and yang koi fish painting. If you are not interested in this painting, you can discover our yin yang paintings. Otherwise, you can browse through our yin yang decorations with great spiritual values.