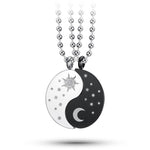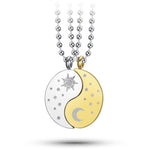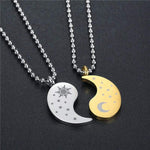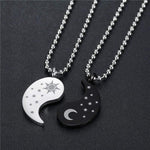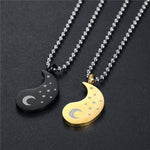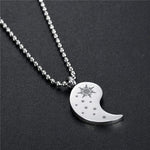 Friendship Necklace Sun and Moon
Please select an available variant

Feel the alchemy of the yin yang sun and moon by wearing this Taoist jewel. This
Friendship Necklace Sun and Moon 

has a real symbiosis and will be perfect to be worn by 2 people who complete each other.


Features of this Alchemy Necklace:
Stainless Steel/Titanium Pendant

Jewel type: Yin Yang Necklace
Resistant Necklace: Mesh structure and reinforced
Pendant Size: 25 x 25 mm | Chain Size: 60cm | Weight: 12gr

Ideal to offer a symbolic gift

Unisex (necklace for men and women)
FREE SHIPPING
Shines like the clarity of Taoism by wearing this beautiful women's yin and yang necklace. If this necklace does not tempt you, you can also discover our yin yang pendants by visiting our dedicated collection. Discover Taoism in another form thanks to our yin yang jewels that will remind you of the values of this Chinese symbol!