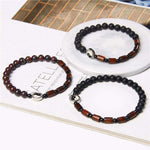 Please select an available variant
Will be in inventory as of

Handmade, this Taiji Bracelet will give you a very exotic look. This yin yang jewel will offer you great spiritual values. To adopt it is to choose the way of the inner peace.
Features of this Taiji Bracelet:
Natural Stones

: Healing Properties

Jewel type: Yin Yang Bracelet
Powerful Spiritual Symbol

Ideal to offer a symbolic gift
Material: elastic, zinc alloy
Pearls Diameter: 6 mm (18 pearls)
100% handcrafted manufacturing
Unisex (bracelet for men and women)
FREE SHIPPING
If you don't like this jewel, you can also discover this bagua bracelet with the trigrams of the 8 elements. Otherwise, you can go to the Yin Yang Bracelet collection to discover all our models. To complete your style, we can propose you other Yin Yang jewels.