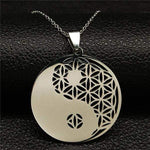 Yin Yang Flower of Life Necklace
Please select an available variant

Become an ambassador of the new age movement by wearing this beautiful Yin Yang Flower of Life Necklace around your neck. These sacred geometric figures represent ancient spiritual beliefs.
Features of this Flower of life Necklace:
Stainless Steel Pendant

Jewel type: Yin Yang Necklace
Resistant Necklace: Mesh structure and reinforced
Pendant Size: 35 x 35 mm | Chain Size: 50cm | Weight: 15gr

Ideal to offer a symbolic gift

Unisex (necklace for men and women)
FREE SHIPPING
Soothe your chakras with this Buddhist-looking buddhist meditation necklace. To discover more yin yang necklaces, we invite you to visit this collection. You can also have a better overview by going directly to our yin yang jewelry collection.