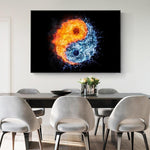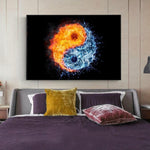 Yin Yang Painting Elements
Please select an available variant

Bring the elements into your living room. Water and fire, Yin and Yang. These two elements are well known for their opposite. Bring a art touch to your home.
Features of this Elements Painting :
Canvas printing: World reference quality in terms of printing and giving a "painting canvas" aspect.
Decor Type : Yin Yang Painting
Ultra Light : One nail is enough to hang it on the wall
Material : Cotton canvas
Extremely accurate color rendering
FREE SHIPPING
Different from our usual canvas, this spiritual canvas paintings is separated into 4 parts. You can also check the collection of yin yang paintings, you will surely find what you're looking for. Our wide range of yin yang decor is waiting for you!