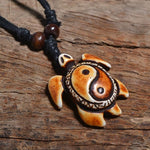 Please select an available variant
Will be in inventory as of

Made from yak bone, this Yin Yang Turtle Necklace will suit a peaceful and sane person. In China, the turtle is part of the 4 sacred animals. Since it is one of the oldest animals on the planet, this emyd is considered a symbol of longevity.
Features of this Turtle Necklace:
Yak Bones

Pendant

Jewel type: Yin Yang Necklace
Resistant Necklace: Reinforced Cord
Pendant Size: 37 x 43 x 12mm | Chain Size: 45-80cm | Weight: 20gr

Ideal to offer a symbolic gift

Unisex (necklace for men and women)
FREE SHIPPING
In a more red style, this chinese cinnabar necklace is very original, it is made with natural cinnabar. Otherwise, you can go to the Yin Yang Necklace collection to discover all our models. To complete your style, we can propose you other Yin Yang jewels.